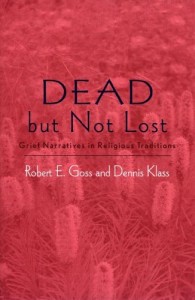 Book Description:
The dead are still with us. Contemporary therapists and counselors are coming to understand what's been known for millennia in most religions and in most cultures outside the Western milieu: it's important to continue bonds between the living and the dead. Taking these connections seriously, Goss and Klass explore how bonds with the dead are created and maintained. In doing so, they unearth a fascinating new way to look at the origins and processes of religion itself. Examining ties to dead family members, teachers, religious and political leaders across religious and secular traditions, the authors offer novel ways of understanding grief and its role in creating meaning. Whether for classes in comparative religion and death and dying, or for bereavement counselors and other trying to make sense of grief, this book helps us understand what it means to feel connected to those dead but not lost.
Authors:
Dennis Klass (Ph.D. in Psychology of Religion, University of Chicago) reported his long-term study of a local chapter of self-help group of bereaved parents in The Spiritual Lives of Bereaved Parents (199). He is coeditor of Continuing Bonds: New Understandings of Grief (1996). He gardens, writes, and walk the beaches at his retirement house on Cape Cod.
Robert E. Goss (Th.D. in Comparative Religion, Harvard University) is pastor of the MCC Church in North Hollywood, He is author of Jesus ACTED UP (1993), and of Queering Christ and co-editr of Take Back the Word . Goss received a Templeton Prize in Religion and Science for his course on theodicy, He has written several articles on Engaged Buddhism and the Buddhist-Christian-Dialogue.


Paperback: 312 pages
Publisher: AltaMira Press (January 17, 2005)
Language: English
ISBN-10: 0759107890
ISBN-13: 978-0759107892
Product Dimensions: 0.7 x 6.5 x 8.8 inches