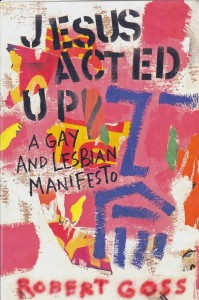 Book Description
Gay activist and former Jesuit priest Robert Goss unites a celebration of "queerness" with liberation theology to challenge the homophobia of the churches. His provocative manifesto asks, "What does it mean to speak and practice Christianity from a gay and/or lesbian perspective?" Goss answers with a rejection of the imperial Christianity of institutional religion and an embrace of the radical activist Jesus of the Gospels, a Jesus who is an advocate of radical political action. Drawing on the best historical scholarship by experts such as Dominic Crossan, Goss demonstrates that Jesus was a social revolutionary and religious innovator who championed outcasts, embraced the marginalized, cleansed the Temple of mercenary power brokers, and advocated social change and political action as radical as any ACT-UP activist today.
"Time is Fast running out for organized religion to comprehend the meanings expressed in this impassioned manifesto. An honest dialogue is a necessity. This book should be required reading in parishes and seminaries, bishoprics and bedrooms."

~ Rev. Malcolm Boyd, author and poet.
Jesus ACTED UP is a charter for a unique liberation theology that calls itself "queer" without reservation. As a lover of the outcast an advocate for the oppressed, Jesus embraces their as his own and is himself "queer." As Rev. Sharon Robinson, Dean of Samaritan College, said in The Advocate, "Jesus was just as queer in his time as we are in ours. What a gift." Jesus' radical social message fundamentally sets him apart from the religious and civil power structures of his day. His message is that the kingdom of God is not a mythical time when the roles of oppressor and oppressed will be exchanged, but very achievable state in which love, rather than power is the principle governing human relations.
""It has a directness, clarity and power that is appealing to the non-gay reader who is disposed to listening. The major impact of the book on me was to make gay life more immediate, real, and authentic."

Dr. Anthony Saldarini, Department of Theology, Boston College
"Bob Goss has written a bold, brilliant, in-your-face manifesto calling queer Christians to stop begging for acceptance and start demanding justice. This is clearly a work inspired by the Holy Spirit, the Liberator."

~ Rev. robert Williams author of Just As I am.
Review by Elise Chase – Library Journal
Review From The Cornel West Reader
Response to the AAR 2014 Panel on the 20th Anniversary of Jesus ACTED, published in Theology & Sexuality. I respond to Mark D. Jordan, Patrick S. Cheng, Mary Hunt, and Jay Michaelson.

Paperback: 272 pages
Publisher: Harpercollins; First Edition edition (May 1994)
Language: English
ISBN-10: 0060633190
ISBN-13: 978-0060633196
Product Dimensions: 9.1 x 6.1 x 0.8 inches
Shipping Weight: 13.6 ounces