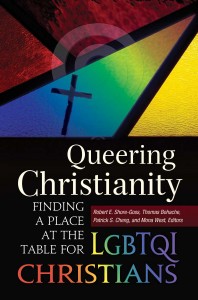 Book Description:
Through essays by noted lesbian, gay, bisexual, transgender, queer or questioning, and intersex (LGBTQI) religion scholars, this important compilation summarizes the history and current status of LGBTQI theology, exploring its relationship to the policies, practices, and theology of traditional Christianity. Contributors contrast the "radically inclusive" thinking of LGBTQI theology with the "exclusivity" practiced by many Christian churches, explaining the reasoning of each and clarifying contentious issues. At the same time, the book highlights ways in which "queer" theology and practice benefit Christian congregations.
"Welcome to a feast with open doors, to the extravagant potluck of a queer theology no longer barred from the table! Here is theology boldly, jubilantly in progress—making new words to describe, to celebrate, and to carry on what God has been doing where God wasn't even supposed to be."

Dr. Mark D. Jordan, Professor, Danforth Center of Religion and Politics, Washington University
Writing from the perspective of grassroots Christian LGBTQI movements, many of the contributors draw upon their own experiences. They provide graphic examples of the effects exclusion has on individuals, congregations, and denominations and also share examples of inclusion and its effects. Equally important, the work creates the basis for dialogue between traditional churches and followers of LGBTQI theology, offering practical suggestions for Christian congregations that wish to put aside exclusionary policies and practices.
"A splendid and courageous volume, offering both astute theological insights and practical pastoral advice. Not just for queers, but also for affirming congregations and straight Christians, who want to taste the promise of the open and inclusive table."

Dr. Kwok Pui-Lan, William F. Cole Professor of Christian Theology and Spirituality, Episcopal Divinity School
Robert E. Shore-Goss, ThD, is Senior Pastor of Metropolitan Community Church in the Valley, North Hollywood, CA. His published works include: Jesus Acted Up: A Gay and Lesbian Manifesto;  A Rainbow of Religious Studies; Our Families, Our Values: Snapshots of Queer Kinship; Take Back the Word: A Queer Reading of the Bible; Queering Christ: Beyond Jesus Acted Up; Dead but Not Lost: Grief Narratives in Religious Traditions; Gay Catholic Priests and Clerical Sexual Misconduct: Breaking the Silence of Sodom.  Shore-Goss was also the primary editor of the Second Testament section of The Queer Bible Commentary. A former Catholic Jesuit priest who left and transferred his clerical credentials into Metropolitan Community Churches, Shore-Goss received his doctorate from Harvard University in theology and comparative religions with a specialization in Indo-Tibetan Buddhism and Christianity.
"This vibrant, playful, inquisitive collection makes clear that queer Christian theologies concern not just sexuality and gender but also liturgy, pastoral care, ecology, and other aspects of Christian life. The contributors' passionate belief in practicing faith in community means that they speak with a range of distinct voices, united by a characteristically MCC-flavoured commitment to truth-telling, openness, justice and love. The volume will stimulate conversations among Christians and other people of faith about how best to live queerly faithful (and faithfully queer) lives for years to come."

Dr Susannah Cornwall, Postdoctoral Research Associate, Lincoln Theological Institute, Department of Religions and Theology, University of Manchester
Co-Editors
Reverend Thomas Bohache, D. Min, has been a pastor in the Metropolitan Community Churches for 25 years. His published works include, The Queer Bible Commentary and Christology from the Margins. Bohache most recently pursued postgraduate research at the University of Exeter. He holds a doctorate in feminist liberation theologies from the Episcopal Divinity School.
Reverend Patrick S. Cheng, PhD, JD, is the Associate Professor of Historical and Systematic Theology at the Episcopal Divinity School, Cambridge, MA. His published works include: Radical Love: An Introduction to Queer Theology; From Sin to Amazing Grace: Discovering the Queer Christ; and Rainbow Theology: Bridging Race, Sexuality, and Spirit. Cheng holds a doctorate in systematic theology from Union Theological Seminary and a Juris Doctor degree from Harvard Law School.
Reverend Mona West, PhD, is Director of Formation and Leadership Development for Metropolitan Community Churches and was affirmed as an Elder in MCC in 2012. She has taught biblical studies at several colleges, universities, and seminaries throughout the United States. Originally ordained in the Southern Baptist denomination in 1987, West transferred her ordination credentials to MCC in 1992 and served as the Academic Dean for Samaritan Institute, the school that trained clergy for MCC. She has also held several pastoral positions in MCC, including one at the 3,000 member Cathedral of Hope in Dallas, TX. West writes and speaks about spirituality and queer biblical studies and is a contributing editor to two books: Take Back the Word: A  Queer Reading of the Bible and The Queer Bible Commentary. She earned a doctorate in Hebrew Bible/Old Testament from Southern Seminary and also holds a certificate in spiritual formation from Columbia Seminary.

Hardcover: 422 pages
Publisher: Praeger (June 30, 2013)
Language: English
ISBN-10: 1440829659
ISBN-13: 978-1440829659
Product Dimensions: 1.3 x 6.7 x 9.7 inches